Now Selling!
Infinity's newest community. Located within the highly sought-after Livonia Public School District, this new community attracts families looking for not only a highly desired school district, but a quality built home with stylish features at affordable prices. With close proximity to all major freeways, including downtown Detroit and Ann Arbor, Emerson Oaks Village provides for easy commuting to any major destination around Southeastern Michigan.
Agent Info:
Gina Dalal
Phone: 248-574-1979
Email: gdalal@infinityhomescorp.com



Floor Plans
---
*Estimated "as low as" monthly payment is intended as a general market reference only, as of the date of creation. It is not intended to serve as an accurate rate quote, as additional factors will affect each loan scenario. Rates, points and closing costs are subject to change without notice and vary by state and the interest rate chosen. Rates may also be affected by the borrower's credit profile. Listed pricing of homes are subject to change without notice. In a constant effort to improve out plans, features and communities, we reserve the right to revise designs, specifications, prices and terms from those shown in original plans or model homes without notice or obligation.
Infinity Homes is not a lender.
Rates and payments are estimates based off recent average interest rates.
Rates and payments could change without notice. For your own protection always get a Loan Estimate from your licensed loan officer.
Payments based off of a 6.5% 30 year term.
Site Plan & Features
---
Community Site Plan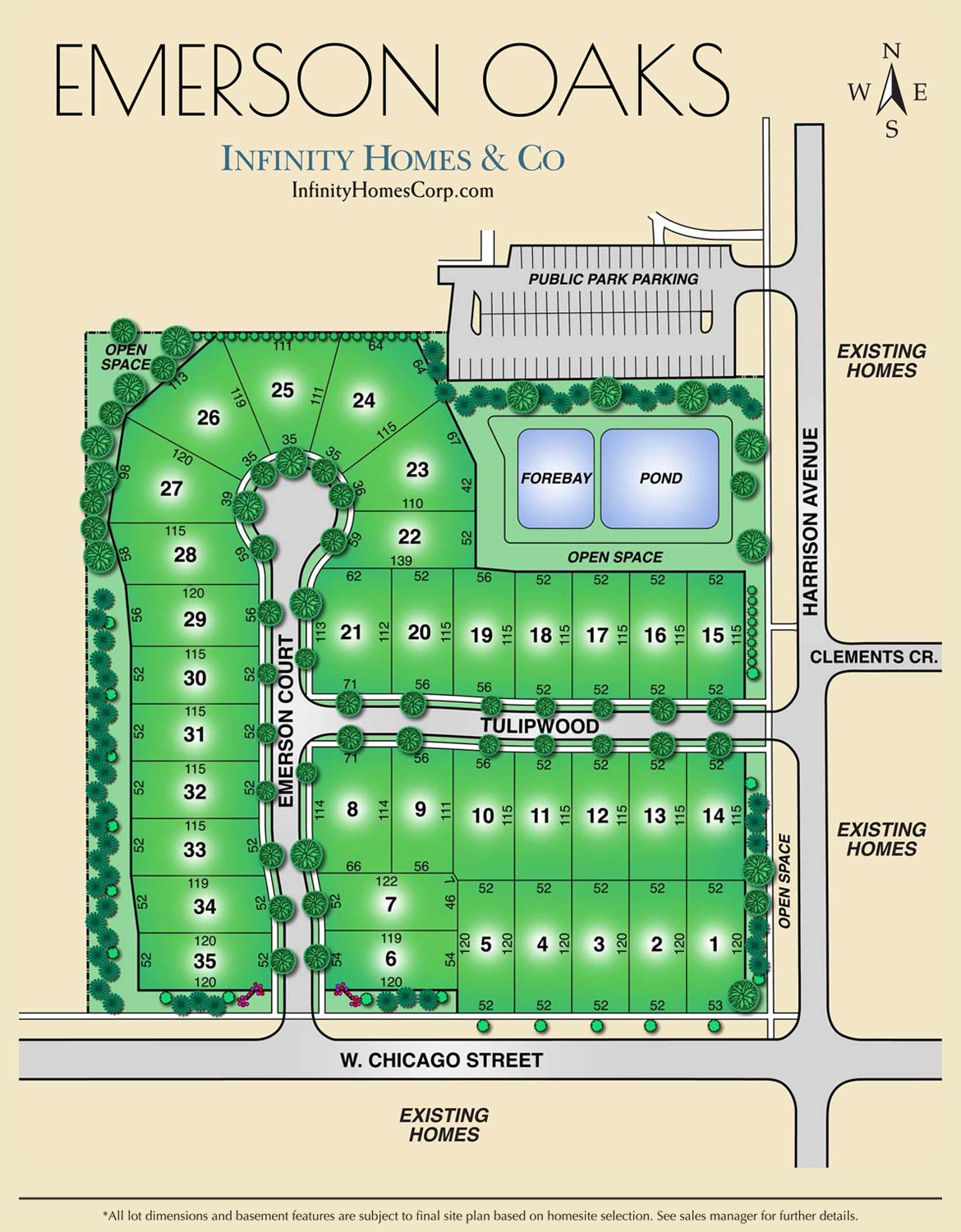 Design & Community Features
Ranch Style Models and Three & Four Bedroom Floor Plans Available with Distinctive Exterior Elevations - Per Model
Highly Accredited Livonia School District
Premium Brick on Front Elevation and Full Brick Up to Second Floor Belt Line on Sides & Rear with No Maintenance Vinyl Siding with Painted Wood Trim Overhangs & Fascia (Varies Per Model/Elevation)
TARKETT PROGEN Luxury Vinyl 5mm x 7" x 60" Plank Flooring in Kitchen, Nook, Powder Room, Foyer, and Connecting Hallways in Choice of Stain Finishes (Per Plan/ From Builders Standard Selections)
Choice of MERILLAT stained Birch Cabinetry from Builder's Selection
WILSONART Laminate Counter Tops with 4" Backsplashes (From Builders Standard Color Selections)
12" x 12" Ceramic Tile Flooring (From Builders Standard Selection)
Separate STERLING BY KOHLER Garden Tub & Shower Unit in Master Bath-(Per Model/Plan)
BRYANT 96% High Efficiency Gas Furnace with Outside Air Induction
BIRD'S EYE VIEW
---
See an overview of the community location

Model Info & Directions
---
Model & Sales Center Information

Model Address:
Please Note: Model located in the Park West community
8253 Berwick Drive
Westland, MI 48185

Model Location

Community Location


Model Hours:
Monday, Tuesday & Friday: 11pm - 4pm
Saturday & Sunday: 12pm - 5pm
Closed Wednesday, Thursday & All Holidays

Agent Info:
Gina Dalal
Phone: 248-574-1979
Email: gdalal@infinityhomescorp.com


Worked with Infinity Homes to build my first home with my family and I am very pleased with them as a whole! I greatly appreciate the hard work and dedication they provided to bring me and my families dreams come true! Suzanne White is the ABSOLUTE BEST agent to work with! She was always available when we had questions and always on top of keeping us informed throughout the process! She made this process less stressful for us! Also want to give Nic a shoutout! He stayed on top of things and helped to make sure everything was what we dreamed it to be! Definitely recommend anyone to work with this team!
I had a great experience here when I bought my home. They are offered at a great value, and quality was standard. I've been here for two years now and no major issues. Any issues I had were normal for new homes and warranty handled it promptly. All the people I worked with were great and very friendly. It was a good experience for me for my home building process.
Currently in the process of building with Infinity Homes. I am a first time home buyer and the process is going very smoothly. Joann and John are extremely responsive and are willing and open to my many questions as we move along in this process. Infinity Homes has many choices for cities, home designs, and potential home upgrades. Also with very competitive pricing. I would highly recommend this builder to others and am looking forward to continuing the process and seeing my final home come together.
I bought a new build from Infinity Homes. I never thought I would be able to build a home of this quality for the price. Our sales agent Gina was the best to work with. She guided us seamlessly through the process and she always made herself available, that was very important to. Liz the office manager was very helpful as well. I cannot explain how appreciative I am for their professionalism and the care they showed me and my family. I love my new home and my community. I referred two family members that are also getting homes built. I would recommend again. Thanks Infinity Homes!
... What we're thankful for is Gina Dalal's accessibility and compassion through this process. She was a great partner and friend to us. She came through in the clutch on several different occasions, going out of our way to assure we met our end goal…
The house was absolutely amazing! From custom gray laminate floors to granite countertops in the kitchen and every bathroom to amazing white kitchen cabinets. We absolutely fell in love with the house! We put in a offer and closed in less than 45 days with no hidden costs! I would definitely recommend Infinity homes to anyone looking for a home! The sales team is great, provides great customer service, and pays attention to the small details!
We had a wonderful experience with infinity homes! They built our dream home and we couldn't be happier. They were very responsive and accommodating. We would recommend them to anyone in the future! We are closing today!
The home buying process with infinity homes was quick and efficient. The home I ended up purchasing was already built, but for everything that came with the home, it was set at a very reasonable price.There was a small block in the beginning on my part, but infinity still worked with me to get me in my home in a timely fashion. It has been almost a month since I moved in and I couldn't be more happier with my home.
I Would Like More Information
---
Success! Your message has been sent to us.
Error! There was an error sending your message.